Kayla Evans Berry
In college, Kayla decided to major in Interdisciplinary Studies and minor in Computer-Based Honors in order to combine her varied interests. Her emphasis in Media Design and Implementation included coursework in computer technology, photography, and design. During her college career, she was named Outstanding Freshman and Sophomore for the Computer-Based Honors Program and was a two-time recipient of the Jane Nix Service Award. She also earned membership in Phi Eta Sigma, Alpha Lambda Delta, and Phi Beta Kappa.

As a student, Kayla worked as an office associate for the Computer-Based Honors Program at The University of Alabama and also pursued other activities that allowed her to hone her design and photography skills, often in a digital space. She designed and edited the Seebeck Society Newsletter and other documents for the Computer-Based Honors Program, photographed events for both the Computer-Based Honors Program and the Honors College, compiled and organized the Honors College Honors Day book, and contributed to the Honors College website. As photo editor for the Honors College's Mosaic magazine, Kayla organized and designed photography sessions; photographed people, locations, and events on campus; worked with a team of writers, designers, and photographers; and managed the other photographers on staff. After graduation, Kayla designed and developed websites for an on-campus research lab and a local ministry. In 2011, she even designed and created her own wedding invitations!

Kayla has worked for Duke City Software since 2010 designing websites, converting designs to functioning web pages, implementing sites in WordPress and making website updates. She is an expert in graphic design, web design, photography, color theory, HTML, CSS, WordPress and Adobe Creative Suite Software (Photoshop, Illustrator, Dreamweaver, InDesign). Kayla is also very knowledgeable in PHP, C++ and SQL.
her work
Kayla is the foremost WordPress expert at Duke City Software. She implements websites in Wordpress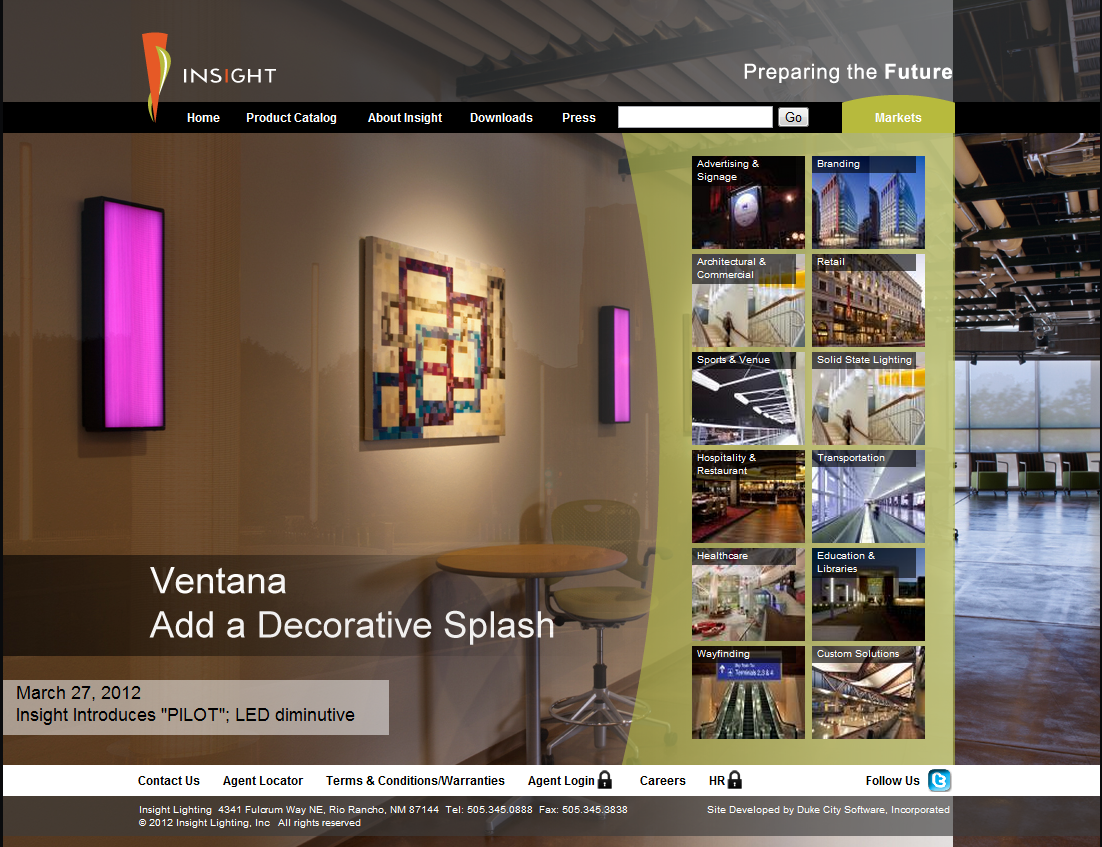 Insight Lighting
The Insight Lighting website is designed to showcase Insight Lighting's beautiful products. This is not a store since all products are purchased through distributors. The intent of the website is to showcase the products and allow distributors to easily locate product specifications. The site was designed by a local Albuquerque firm. We implemented the design. Several of the pages - About, Press, Contact Us and Careers - are implemented in WordPress so that Insight Lighting staff can update those pages as needed. Most of the other pages are dynamically generated from data stored in a database using custom software that Duke City Software created. Staff use an admin interface to update product data and the data is displayed in different ways depending on the page being accessed. The site also includes slideshows on multiple pages and a scrolling marquee on the home page.

she designs websites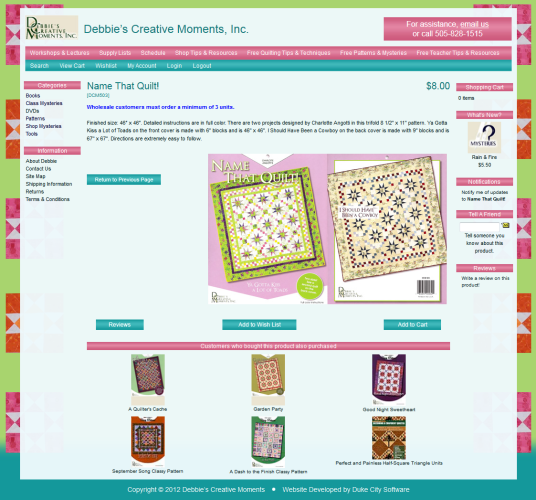 Debbie's Creative Moments
Debbie's Creative Moments has been a long time customer of Duke City Software. When Debbie was ready to update her site, she asked Duke City software to redesign the home page and make only minor modifications to the interior shopping cart pages to freshen up the look. The new site looks modern and aesthetic and incorporates social media seamlessly.


Design Redefined
The Design Redefined website was implemented in WordPress by another developer. Scotti Romberg, the owner of the website, asked us to reorganize and redesign the homepage, in addition to updating the look of the interior pages. The new website is more visual, and the information on the homepage is now streamlined with Scotti's contact information and photos of her work near the top of the page where they will attract maximum attention.

she is also very skilled at turning designs into functioning web pages using html

Albuquerque The Magazine
Albuquerque The Magazine is staffed with excellent designers. They designed the website and we implemented it for them. They chose to update the site themselves using Contribute rather than a content management system. We administer their shopping cart and have developed custom software applications for Hot Singles nominations, Top Docs voting, Top Dentists voting and the renowned Best of the City voting. We've also installed a blog for the Favorite Places updates and incorporated a Facebook plug-in. The site uses Google Ad Manager to serve advertisements on the site.


Celebrating New Mexico Statehood
In 2012 New Mexico celebrated 100 years of statehood. The celebrating New Mexico Statehood site was designed by a local firm with content provided by the client. Duke City Software implemented the design using the Drupal Content Management System to give the content the desired look and feel.


New Mexico Health Insurance Alliance
The New Mexico Health Insurance Alliance (NMHIA) website was designed by Griffin and Associates to be an effective call-to-action for individuals and families needing insurance and for agents wanting additional products to market. Duke City Software implemented the design including videos, an animated gif, a series of eligibility questions and a customized online health insurance quoting application. Semi-annual rate adjustments that used to take weeks to implement are now implemented in a matter of hours.


The University of Alabama, May 2010
Interdisciplinary Studies, Bachelor of Science
Emphasis in Media Design & Implementation
Computer-Based Honors, Minor
What our clients think.
Many thanks for pursuing this on my behalf. As always a pleasure working with you.
Ellen